Part 1
This year, Her Majesty the Queen will become the first British Monarch to celebrate a Platinum Jubilee after an incredible 70 years of service to her country.
As a variety of events kick off around the UK, including a bonus 2-day bank holiday, street parties, pageants, exhibitions and concerts, our two-part series takes a deeper look into Kent Reliance's history and heritage, and why (like the Royal Family) loyalty and service are the foundations we're built on.
Humble beginnings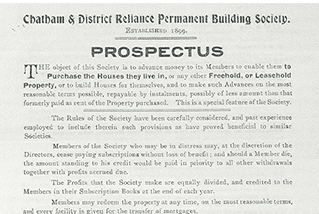 Kent Reliance was founded in 1898 (a year after Queen Victoria's Jubilee) as the Chatham & District Reliance Building Society. It was set up by 12 prosperous local businessmen (including a solicitor, an architect, a surveyor, 2 accountants, 2 chemists, a draper and a corn merchant) and they also formed the original Board.
The roots of The Chatham Reliance can actually be traced even earlier than this – as it eventually incorporated the Dover District (established in 1861), the Herne Bay (established in 1888) and Kent and Canterbury (established in the 1840s).
The first mortgage advance was issued in 1899 for the princely sum of £250 for a house purchase in Gillingham - with an interest rate of 5%. The maximum term at this time was 14 years, a far cry from what we see today!
The motives of those who set up the Society were entirely philanthropic – it was designed so that working people could own their own properties.
"To have helped many thousands of people to own their own homes, to have provided thousands more with the safest possible sanctuary for their savings, to have weathered two world wars, the depression of the '20s and the recession of the '90s… is indeed something to celebrate."
Peter E Firth – A Safe Haven – The centenary history of Kent's largest building society (1998).
In 1902 - a year after Queen Victoria's death and King Edward VIII's accession – it set up premises in a rental office in Gillingham. Board meetings were held here, but it was also where early passbooks were signed and the books were balanced.
During this period applications to withdraw savings had to be considered at monthly meetings, and the decision could take up to four weeks! This meant up to an 8 week period in total – a system which existed for more than 50 years.
"As safe as the Bank of England"
Despite the economic challenges of the decade (including post-war recovery and redundancies made at Chatham Dockyard), in 1908 a 6% dividend was declared to shareholders and Chairman J Plovis claimed that Reliance shares were "as safe as the Bank of England".
The First World War didn't have a huge impact on the Society's profits, delivering a dividend of 5.5% consistently throughout this period.
The Society continued to grow, however it remained true to its roots as a small and local society until the 1920s where fortunes began to rise a little more rapidly – by 1930 the Society's average profit per annum was £16,469 – a huge increase from the average £1,410 reported just five years previously.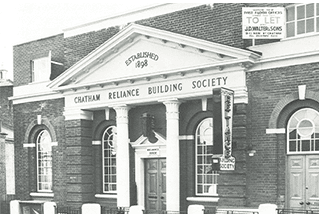 In 1926 – the year Elizabeth II was born – the Society moved to new official premises and it continued to grow. At the end of 1929 the number of staff employed had risen to four full-time office staff and two caretakers.
By 1933 assets exceeded £500k from more than 3,000 investors. Its success was attributed to low running costs (the first electricity bill was 16s 6d), but was also due to word of mouth recommendations, advertising and "sound financial management".
With another World War looming, the building boom (which saw the construction of 300,000 houses per year) was coming to an end, causing some building societies to raise interest rates for borrowers. The halt to investments and mortgages stopped The Society from reaching its planned target income of £1m but it wasn't performing too badly considering.
Our people matter
As the country once again headed into war, the Society was more dependent on its hardworking staff than ever (just as it is today). The uncertainty of the time required contingency plans to be set up – including making copies of all the Society's deeds and photographs to be sent away for safe keeping.
Also, a second premises was rented in Maidstone, in the case of an evacuation of Reliance House. An occurrence which would have been likely when a bomb was dropped on Reliance House during an air raid in August 1940, had it not been for the quick thinking actions of members of staff who alerted the Home Guard and they extinguished the fire with minimal damage.
Chairman Henry Paine said of the staff that their "spirit has never been more exemplified than during the recent period of crisis."
They weren't the only ones showing courage and commitment. Even the Royals could not escape the perils of war – Buckingham Palace was bombed a month after Reliance House. Four members of Palace staff were injured, one of whom died, but the King and Queen were unharmed. Rather than flee, they remained steadfast in solidarity with the rest of the nation. After the bombing the Queen was reported to have said: "I am glad we have been bombed. Now we can look the East End in the eye."
The Society also found ways to take care of its members – a large number of borrowers were provided relief in the form of financial assistance to repair war-torn homes and halted mortgage payments.
Despite the War, the Society continued to achieve record assets annually, reaching £1m by 1942.
Post-war rebuilding
In 1944, the entire country was turning its attention to post-war housing, and the Society was no exception. Some 4m houses were needed over the next 10-12 years to replace unfit and war-torn accommodation.
By 1946, only 352 houses had been built, amid a growing demand for home ownership. This led to increasing prices (sometimes three times the amount seen pre-war); however, Henry Paine was pleased to announce that almost 10,000 houses had been bought with the Society's assistance. Citing the advantages of home ownership, he said: "The man who buys a house at the present time offers a threefold relief to the State and the local authority. There is magic and contentment in home ownership. It makes a man a better citizen and encourages him to make sure his house is a real home."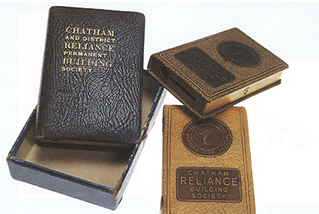 This social conscience continued through to how the Society treated its borrowers – it worked on as narrow a margin as possible, in order to keep rates low. It was also sceptical of lower rates and longer terms being offered by other societies (some up to 35 years!), believing that everyone wanted to pay off their mortgage in as short a time as possible.
But houses weren't the only thing being built – the Queen was also adding to her family. In 1948 Prince Charles was born – who was to become the longest-serving heir apparent in history. He was followed 2 years later by Princess Anne.
A country united in celebration – and mourning
Just over 50 years ago a young Princess Elizabeth was in Kenya with her husband when she heard the news that her father, King George VI, had died. Around the world, flags were flown at half-mast, theatres closed and sporting events were cancelled. Without delay Elizabeth acceded to the throne, becoming Queen Elizabeth II.
In June 1953 she was crowned at Westminster Abbey in a 3-hour ceremony. The internal procession consisted of 250 people including church leaders, civil and military leaders, members of the royal household, and Prime Ministers from around the Commonwealth.
While the streets were lined with hundreds of thousands of well-wishers, for many it was the first time they had watched a live event on television, having been broadcast live by the BBC. Out of a population of roughly 36m, 27m people in the UK watched the ceremony on TV and 11m listened on the radio.
On the way back to Buckingham Palace, there was a procession made up of nearly 30,000 people, and lights lit up the Mall, Trafalgar Square fountain, the National Gallery and the Tower of London.
No one would have guessed it was to mark the beginning of an incredible 70 years on the throne, and that she would become the longest-reigning monarch in British history - surpassing Queen Victoria's 63 years, seven months and two days on the throne.
Look out for part 2, which focuses on the 1960s through to the present day…
*Factual information concerning Kent Reliance has been republished from A Safe Haven: The Centenary History of Kent's Largest Building Society with permission from the author, Peter E Firth.