Part 2
We conclude our two-part series celebrating the Queen's Jubilee by looking at what Kent Reliance and another great institution, the Royal Family, have in common. We also take a look at how we've kept loyal to our roots (and our customers) despite the huge challenges and changes we've been through over the decades. 
A new way of banking
In 1957 the Society saw a few changes – the main one being the introduction of passbooks. These were brought in to replace share certificates for money invested, and from 1957 they were modernised even further by being written in ballpoint rather than pen and ink. It wasn't until later that year a typewriter was used to fill them in.
Kent Reliance is proud to be one of the very few banks still offering passbooks, and know how important they are to their customers that rely on them.
Branching out
The 60s (10 years after a young Queen Elizabeth acceded to the throne) began with President John F. Kennedy famously predicting that by the end of the decade we'd put a man on the moon – and Neil Armstrong found fame as that first person to set foot on another planet. It was the decade of The Beatles and The Rolling Stones, and Martin Luther King Jr's iconic "I Have a Dream" speech. In Britain, Queen Elizabeth II was about to welcome her third child.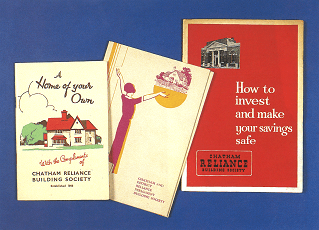 The Society was also expanding its family. By 1962 assets had reached £3.5m, and the first dedicated branch offices were opened in Chatham in 1963 and Gillingham in 1964.
Chatham Reliance was set up to be local in nature, and made a decision to confine itself largely to Kent. Although it may have grown larger had it expanded nationally, it didn't want to "overstretch itself". There were two notable exceptions: 6 agency branches were set up in Spalding in Lincolnshire in the early 60s (as there was no estate agents at all in the area); and one was opened in Plymouth in the 80s (continuing the naval connections as homeowners moved away from Chatham Dockyard). This latter arrangement was discontinued a few years later, and the Reliance returned to its local roots.
Kent Reliance now has nine branches across the South East:
Chatham
Strood
Hempstead
Maidstone
Gravesend
Canterbury
Littlehampton
Chichester
Hythe
Today, where other banks close their counters and increasingly move online, investment in personal service and Kent Reliance's branch network continues. Recent upgrades have created more service counters, improved access and greater privacy.
A changing landscape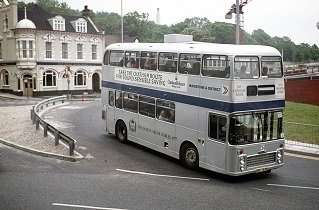 The 1970s were very difficult years for the UK, politically and economically. One of the most significant changes was the introduction of the 1974 Housing Act, which introduced funding for social housing development by housing associations. The 1980 Housing Act followed, which introduced "right to buy" and "right to a mortgage". This caused sales to rise, and paved the way for housing associations to become a major provider of social housing, a debate which continues today.
The Society continued to expand, with the number of loans and further advances reaching 1,000 and lending exceeding £4m in 1973. Staff numbered 39 full time and 8 part-time.
In 1977 the Queen celebrated her silver jubilee, and the Chatham Reliance commissioned a specially painted double-decker bus to advertise – issuing the first passenger with a £25 savings account. The same year the Reliance merged with the Dover District building society – which had total assets of £1.25m. A year later the Society was one of the first institutions to open a branch within a supermarket, setting up shop in the SavaCentre within the Hempstead Valley shopping centre.
1980s – New kids on the block
The 1980s saw the advent of many things that were to change the course of history and the way we live, such as mobile phones, Walkmans, CD players, personal computers and DNA fingerprinting.
For the Royal Family, the decade saw two weddings (including Charles and Diana's), more grandchildren (including a future King), a palace break-in, a British monarch's first visit to China, and an American President's first stay in Windsor Castle. Tabloids were fighting to get the latest scoop on what was quickly becoming a new soap opera.  
Chatham Reliance was also attracting the attention of the press – gaining attention when it began offering travellers cheques as an additional service and was listed in the best buy tables. Record figures were reported as the decade went on – 1984 saw a bumper year where total assets reached £75m. In the same year it merged with the Kent and Canterbury Building Society – which was established in 1847 (7 years after Queen Victoria married Prince Albert, and 6 years after Edward VII was born).
Two years later the Society merged with the Herne Bay Building Society and it was renamed the Kent Reliance Building Society. Now with combined assets of over £120m, the move cemented its position as the biggest building society in Kent.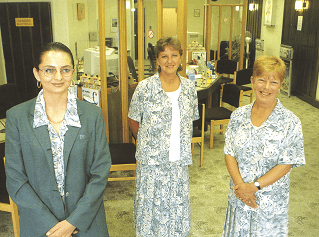 During this decade the Society expanded its product offering to include car, home and travel insurance, personal loans and mortgage protection, as well as introducing a book of savings vouchers giving customers reduced rates to tourist attractions in the area.
In 1986 the new branch in Chatham featured "some of the most advanced user-friendly features found in the UK" including anti-bandit screens, an open plan layout, and a high-tech cash dispenser system. The branch was opened by Marius Goring, a well-known stage and screen actor, who also planted a commemorative tree outside.
In 1989, a suite of new products were released, which attracted praise in the media (especially one which gave those over 70 a chance to buy their home).
Recession and recovery
The 1990s was set to be a challenging decade for the Royal Family – with 1992 famously referred to by the Queen as an "annus horribilis". The year saw the Duke and Duchess of York announce their separation, Princess Anne and Mark Phillips divorce, and a fire break out at Windsor Castle. Things went from bad to tragic, with the tragic death of Princess Diana in 1997.
For the rest of the UK, the decade was also a tumultuous one. After the housing boom of the 1980s, the 90s began with falling house prices, bankruptcies and repossessions, and increased unemployment. "Negative equity" became a real threat for many.
Kent Reliance had robust policies in place to ensure affordability, including the managing director personally scrutinising 1 in every 10 applications, and a resistance to offer 100% mortgages. However, the recession tested it (and its staff) to its limits. Arrears and repossessions increased and Kent Reliance set up an arrears helpdesk, including a direct telephone line for its customers. It did, however, weather the storm pretty well, resisting larger mergers, and its investments soon exceeded its mortgage finance needs.
Previous Director of the Herne Bay Society, Dennis Rose, said: "The decision is made to continue resolutely those policies which has given the society its current strength…. The message was, and still is, do what you know best with all the skill you can muster."
While other building societies were rethinking their agency strategies, Kent Reliance was moving in the opposite direction and by the mid-1990s there were 20 agencies and 12 branches.
The ramping up of marketing initiatives continued, with the introduction in 1993 of the Kent Cottages Award – whereby long-term borrowers were rewarded with limited editions of Kent cottages painted by artist David Winter.
In Mortgage Magazine in 1991 Kent Reliance was described as "local heroes" while other press reports highlighted its record of dealing with customer complaints within 24 hours, "highly qualified staff", wealth of local knowledge and responsible approach to lending. One particular article called out the friendliness of service and the fact staff knew customers by name - something which Kent Reliance is still proud of today.
By 1994 the recession had largely disappeared and the Society introduced Kent Saver Shares and new fixed-rate mortgages. These helped to increase assets to £100m in the space of a year.
By 1995, assets had reached £250m and each branch was given £250 to donate to local charities to celebrate. The Society also appointed its first woman director, Anne-Marie Nelson.
One of the most prudent investments the Society made was to commission model buses, the limited editions of 1,040 at £4 each quickly sold out, with offers of £20 being made a few months later – a 500% increase on investment!!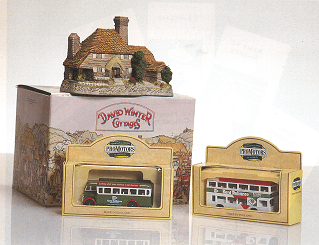 As the 1900s drew to a close and Kent Reliance approached its centenary year, it wanted to ensure that it was putting people before profits, at a time when other buildings societies were merging into bigger institutions. It wanted to ensure the interests of those in charge and those it serves were one and the same. Purchasers were protected from high interest rates and, conversely, when rates fell savers were helped out.
An example of this was in 1997 where the Society received £325,000 in an out of court settlement – instead of keeping this money in reserves, it instead raised the interest rates for investors.
Chairman John Cheele said: "Our Society has not been deflected by the siren call of current greed, and remains committed to its true purpose. The board hopes that any […] newer members will come to appreciate and value their membership, and […] support the ideals of their local, traditional building society."
Y2K
The new Century didn't bring about the cataclysmic disaster many predicted, but it did bring a change of direction for the Society.
Kent Reliance Building Society was the fastest growing building society in the UK between 2003 and 2008 and was a member of the Building Societies Association. This dramatic growth was driven in part by the establishment in 2002 of a wholly owned subsidiary, Jersey Home Loans Limited, which bought out the Jersey mortgage business of Standard Chartered Grindlays Bank Ltd. By September 2008, this subsidiary had mortgages on its books of over £700m.
In July 2010 JC Flowers announced its intention to purchase a stake of Kent Reliance and in February 2011 OneSavings plc was renamed OneSavings Bank plc.
Between 2012 and 2016, OneSavings Bank acquired various businesses, including InterBay Commercial, and Prestige and Heritable Finance. It also formed its own lending arm, Kent Reliance for Intermediaries.
In 2020, after combining with Charter Court Financial Services, OneSavings Bank became OSB Group.
A turn in the tide
The first two decades of the new century saw a huge shift, modernisation and romantic mergers for the Royals. Just two years after Kent Reliance celebrated its 100 year anniversary, the Queen Mother also celebrated hers, receiving a telegram from the Queen and becoming the longest-living British Royal in history.
Unfortunately, Princess Margaret passed away in 2002, followed just over a month later by the Queen Mother.
While the 90s had been tough for the Royals, a variety of anniversaries, jubilees, weddings and births meant they started to regain public favour.
As the youngest grandchildren of the Queen grew up, William met Kate Middleton and began a well-documented courtship, and Charles and Camilla also rekindled after the death of Princess Diana, ultimately marrying in 2005. However, the fairy tale wedding belonged to Kate and William, who married in 2011 at a ceremony with 1,900 guests and hundreds of thousands of street-lined well-wishers.
In 2012 the Queen celebrated 60 years on the throne, London hosted the Olympic Games, and William and Kate announced they were expecting their first child. The future King, Prince George, was born in July 2013.
In 2015, making history, the couple's second child, Princess Charlotte, became the first female royal in history to take precedence over any future male siblings in the line of succession. The same year Queen Elizabeth became not only Britain's longest reigning monarch, but the longest reigning monarch in world history.
Another piece of history was made in 2018 when Meghan Markle, a mixed-race divorcee, married Prince Harry and joined the Royal Family, welcoming their first child Archie in 2019. In tribute to the Queen, they named their second child Lilibet.
COVID-19 - "We're all in it together"
In 2020 a global event occurred which affected every single one of us, no matter your royal status. COVID-19, a virus first detected in China in 2019, spread across the globe, causing the deaths of over 6m people and changing the way we lived and worked forever.
From restrictions on how long we could leave our homes, to who we could meet up with, and how many toilet rolls we could buy, we all struggled through the best we could.
For Kent Reliance, this meant extra safety measures in branches, including mask wearing and social distancing measures. But they stayed open, knowing that customers relied upon them and that slight bit of valuable human, face to face interaction.
The Queen, like many others, spent the festive season apart from her family, addressing loneliness and loss in her Christmas speech. She said: "People have risen magnificently to the challenges of the year and I am proud and moved by this quiet, indomitable spirit."
In April 2021, the Queen was to face her biggest test yet. Her husband, Prince Phillip, died aged 99. The Duke of Edinburgh was the longest-serving royal consort in British history and remained at the Queen's side for longer than her six decades of reign. COVID-19 was still wreaking havoc and the Queen even sat alone at his funeral. In her Christmas message that year she said: "That mischievous, inquiring twinkle was as bright at the end as when I first set eyes on him."
With vaccinations rolled out, 2022 saw the pandemic finally start to eased, a lifting of restrictions and a sense of normality return.
Legacy
As the Queen celebrates her Platinum Jubilee, she has become known first and foremost for her devotion to a life of service. While she starts to wind down her public appearances and pass more activities over to sons and grandsons, it's clear she is still very much a public figure. She's a Royal Patron or President of over 600 charities, military associations, professional bodies and public service organisations.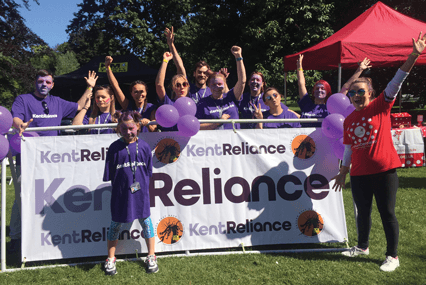 Kent Reliance, while it has evolved over the years, has also ensured it's still giving back to its customers and communities, with investment in its branches and its partnerships with local charities and initiatives.
For instance, it has celebrated 4 years of a brilliant partnership with Demelza Hospice Care for Children, a charity that provides care and treasured memories for children with severe and terminal health conditions and their families. And, in January 2018, it launched its Demelza children's account where an annual donation to Demelza is made, equivalent to 0.25% of the total average balances held in these accounts.
Kent Reliance also began a 3-year partnership with XL@Football in 2021 to become their club sponsor, supporting their senior, youth and coaching teams, and their dedicated player development pathway for players who would like to have a career in professional football.
In turn, the advertising space on the front of the match day, training and coaching kits was donated to Demelza, creating a three-way partnership which is having great benefits to all involved.
Find out more about what Kent Reliance has been doing for its communities here.
As we wish Her Majesty the Queen many more successful years, we're also proud to celebrate Kent Reliance's own heritage, achievements and its desire to serve its customers and community.
Find out where it all began in part 1.
*Factual information concerning Kent Reliance has been republished from A Safe Haven: The Centenary History of Kent's Largest Building Society with permission from the author, Peter E Firth.