Last year we celebrated four years of our partnership with Demelza Children's Hospice – a Kent-based charity that provides care and treasured memories for terminally ill children, and their families.
And what a jam-packed year it was! From getting covered in bubbles and helping out in the warehouses through to sponsoring Christmas events and winning awards for our children's savings account, it's clear our partnership is a great success, benefitting everyone involved.
We take a closer look at what we achieved together in 2022…
A summer of fun
Each summer Demelza hosts a variety of Bubble Rush events held at different locations throughout Kent. This year, our Chatham branch staff along with other employees and their families donned their brightest outfits and waded through 4ft high walls of coloured bubbles at the Maidstone event. Not only that but a handful of Kent Reliance colleagues also used their volunteer day to help out – either in the registration tent, or at the various bubble stations helping to find lost items (and children!) and handing out much-needed tissue paper.
As well as Bubble Rush, Kent Reliance sponsored a brand new event for 2022: Little Warrior. Participants choose to run through either a 2.5k or 5k course (depending how fit they were feeling!) with obstacles and challenges along the way. The course was split into 5 zones, including a slip n'slide, water pistols, a ball pit and areas featuring hand painting and musical instruments.
Not only did we sponsor the event, some of our employees and their families took part, and players from XL@Football also came along to help out, handing out medals and assisting at the various stations around the course. A great example of our partnerships working together to give something back to our local communities.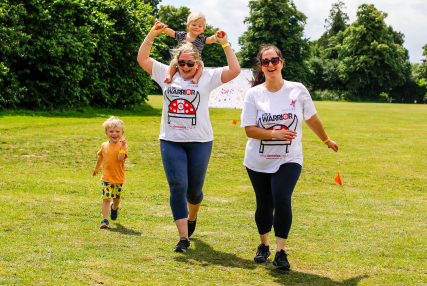 Volunteers make a real difference
Other than getting a new dye job while helping out at events, Kent Reliance colleagues used their annual volunteer day to make a difference helping at the Maidstone Demelza warehouse, gaining an understanding of the hard work involved behind the scenes. The team sorted through donations, prepared items for the shops, and had a chance to reflect on how much we all own and give away.
One of the volunteers, Asad Mirza, Operational Resilience Manager, said: "Not only do we have a greater appreciation for what we have, but by the end of the day the team expressed a new found respect for charities such as Demelza and we're already looking forward to supporting them again in the future."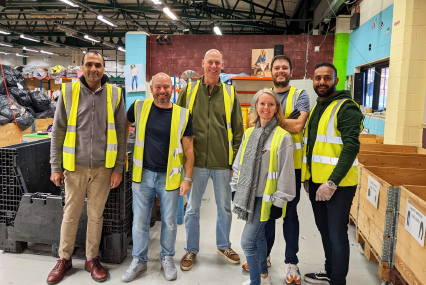 Donation stations
While on the subject of recycling and donating goods, Kent Reliance is deeply committed to its environmental, social and governance (ESG) objectives, and we decided to do something to help. So we installed "donation stations" at 3 of our offices and 2 of our branches, so that colleagues and customers can donate unwanted items conveniently and easily. After only being in situ for less than 4 weeks, 2 stations were full already, so already it's proving to be a popular initiative.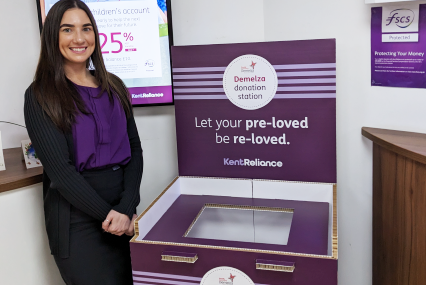 Getting in the Christmas spirit
On 19 December we sponsored Demelza's annual Celebration of Christmas carol concert, held in Canterbury Cathedral. While on hiatus due to Covid for the past few years, 2022 saw its triumphant return. On the night, nearly 800 supporters came along to listen to the Demelza choir, and hear readings from Strictly Come Dancing star Len Goodman and musical theatre star Anna-Jane Casey.
Demelza Senior Events Executive Larissa, who organised the event, said: "The Celebration of Christmas was a great success – in total we raised £19,731! It was lovely to see the choirs, musicians, readers and supporters come together for a magical evening in support of Demelza. What better way is there to start our festive celebrations?!"
Along with helping out at the Little Warrior event, XL@Football players also donated sacks of presents for children at the hospice, meaning more families than ever had a special treat at Christmas.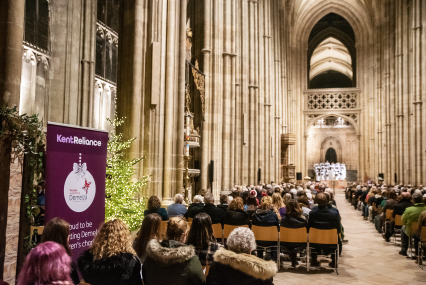 Demelza children's savings account
As well as offering our support to Demelza through events sponsorship and volunteering opportunities, we also offer our Demelza children's savings account.
Each year we make an annual donation to Demelza equivalent to 0.25% of the total average balances held in customers' accounts. And while always popular, the increased interest rate and our work to boost awareness has dramatically increased account take-up, meaning our donation to Demelza far exceeded previous year's and will enable them to provide even greater support to the children and their families.
Not only do we think our children's account is great, but we won Best Children's Savings Provider at the January 2023 Moneynet awards, so it seems we're not the only ones!
We had a fantastic year last year working with our community partners and look forward to what 2023 will bring.