We're proud to have been supporting Demelza Children's Hospice for many years since it was founded in 1998, through various fundraising initiatives and donations. These funds are vital to the hospices and help to pay for trained, specialist nurses.
Beyond this we also lend our support through our employees who use their volunteering days to help out in Demelza's retail warehouses, hospices and at a variety of events. 
Two such events happened recently: the Little Warrior event in June and the Bubble Rush in July.
In the zone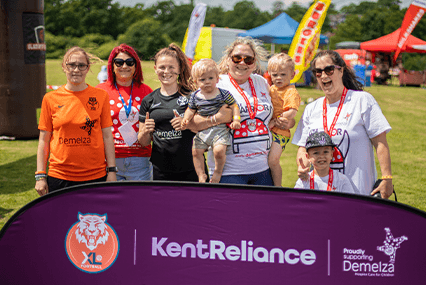 A brand new event for 2022, participants could choose to run through a 2.5k or 5k course (depending how fit they were feeling!) with obstacles and challenges along the way.
For those who fundraised £20 they got an inflatable shield and sword to run – and play fight – with!
The course was split into 5 zones, which included a slip n'slide, water pistols, a ball pit and areas featuring hand painting and musical instruments.
Not only did Kent Reliance sponsor the event, some of our employees and their families took part, and seven players from XL@Football came along to help out, handing out medals and assisting in the various zones. A great example of how our three partnerships work together to benefit our communities.
Bubbling up our support
Throughout May, June and July there were a variety of Bubble Rush events held at different locations throughout Kent.
On the 10 July, at the final one in the series, almost 3,000 people took part in the Maidstone race.
A scorcher of a day, staff from our Chatham branch and other employees and their families donned their bright outfits and waded through 4ft high walls of coloured bubbles.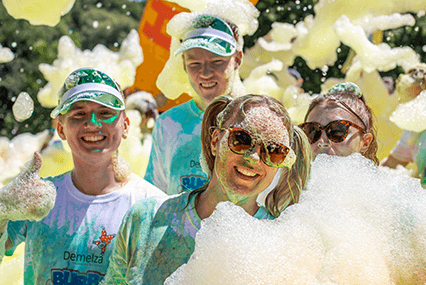 Kent Reliance Deputy Branch Manager James Sanders said: "We had such a fun time taking part in the Demelza Bubble Rush Run, it was an amazing day for an amazing cause. We laughed the whole way around the course and I think I'll be washing the colours out of my hair for weeks!"
Not only that but a few Kent Reliance colleagues also used their volunteer day to help out – either in the registration tent, or at the various bubble stations helping to find lost items (and children!) and handing out much-needed tissues.
Katherine Cordrey, Senior Community & Events Manager at Demelza, said this about the volunteers: "We just wanted to say a massive thank you for all your support at Bubble Rush. Everyone was amazing from start to finish and we honestly couldn't do it without you, so thank you so much for being part of the day!"
Why are we doing this?
These events are fantastic fun for all the family but they raise much-needed funds for Demelza – vital if it's to carry on helping terminally ill children and their families. These two events alone raised around £100,000, which is an amazing achievement.
But if getting stained and soaked isn't your thing, then there are other ways you can help – such as signing up to our Demelza Children's Account. A substantial annual donation – equivalent to 0.25% of the total average balances held in these accounts – goes straight to Demelza.
It's never too early to start saving, so why not find out more here.